J'aime la musique ! I love music !
Chance ! Tu vas être mon ami alors... Tiens, voici une liste de morceaux que tu peux télécharger pour épater tes amis.
Dear ! You got to be my friend... Here, take this list of tunes that you can download to waw your friends and make them jump around.
Dans mon tipi / In my tipi
Qui est-tu Comodo ? / Who are you Comodo ?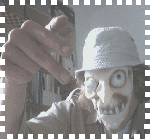 Je suis celui qui aime bouger ça, avec des ondes carrées et un peu de guitare. Je vis à Liège - Belgique, je travaille dans la vie et la musique est ce qui me permet d'être heureux (en plus du bonheur, bien sûr). J'ai joué à des jeux sur Amiga quand j'étais plus jeune, mais je suis toujours jeune mais je joue moins à des jeux. C'est bien quand même.
I am the one who likes to move it, with square waves and a bit of guitar (sometimes). I live in Liège - Belgium, i work for a life and music is what make me happy (along with happyness, of course). I played a lot of video games on Amiga when i was younger, but i am still young but i play less games, though it is still a good thing.
Et qui suis-je ? / And who am I ?